Dice & Ducks
This game was made for the 8bitstoinfinity Text only Jam, made using Twine, and now a short description of the game:
You're a duck.

You play D&D.
You kick ass.
Install instructions
Download the html file and drag it into an empty browser window, it should run perfectly fine then, this is recommended to do!
Comments
Log in with itch.io to leave a comment.
it was a fun game, loved the graphics, but i probably would appreciate it more if i've played D&D before. it's interesting as a standalone, but felt like i was missing something
Thanks for playing! Yeah the game is lacking in depth, so that's probably the reason why the game didn't feel complete, I hope you still enjoyed it though :D
Very neat and fun, I feel it was a little too easy for a 1st time play as I basically Honked my way to victory and took attack only upgrades but otherwise solid RNG mechanics! I feel maybe if Honk had less of a chance to stun the enemies maybe it would force me to not use it as often and meditate more and fight more but as it stood I was always in control to lockdown the battlefield so that said I never really at any point felt a challenge or a looming presence of ever gonna lose the game! Thanks for the game and I only ever needed to use 1 reroll in the entirety of the game btw! Cheers! :D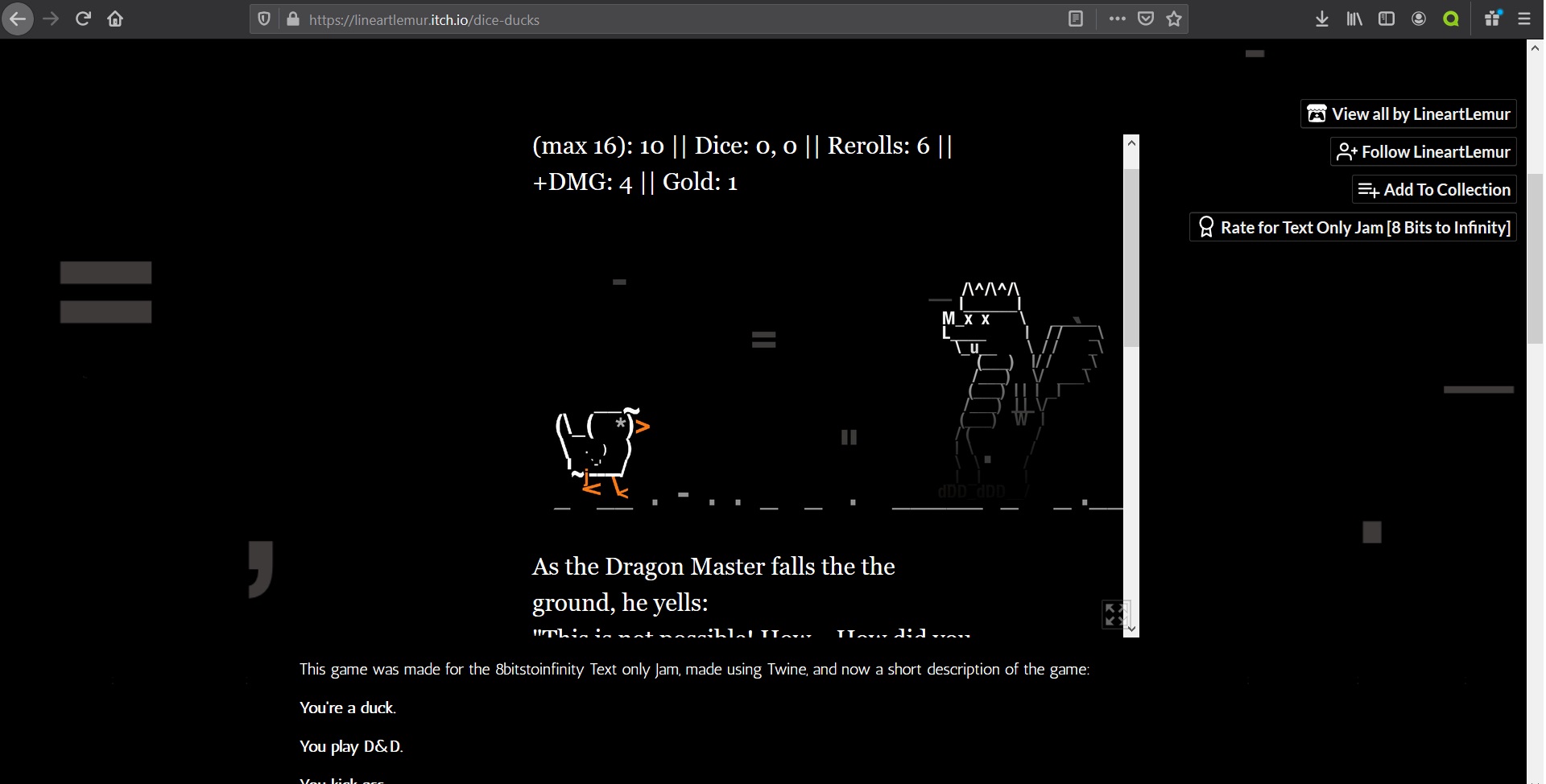 Thanks for playing! Yeah, the game was lacking much in depth and tactical decision making, fun fact, it used to be 20%*spots on dice to flinch, I changed it last minute though, otherwise it would be even OP'er, but yeah, thanks for playing!
I should've thought more about challenge and tactical options, but good, next time will be better ;)
I hope you enjoyed the game and thanks for the feedback!
Very fun! The art was all very cute, and I actually liked the mechanic with the dice, though I do wish that different strategies would come into play in different battles. Also, in the final battle, the battle messages kept switching between Dragon Master and Goblin, as well as the art. If you would like to check out my game, you can certainly go ahead. I'd appreciate feedback so that we can both improve :)

Thanks for the feedback! And yeah, I tried to make the battles more interesting but it was pretty hard, and oh no... seems like I forgot to change some of the pictures and text on the dragon battle... I made it last minute and I didn't notice it, that's stupid... But yeah, thanks for playing! I'll play yours too soon! :D
Beautiful game! It's a perfect size and tone, and I love, love, love the art. The only thing I would consider changing is the screen layout. Could the actions be fit on the screen without scrolling?
Thanks for playing! It does fit if you download the html file and drag it into a seperate browser, that method is recommended actually, but yeah, I hoped I could do that in the itch browser as well but it wasn't as simple as I thought to do that... so I just went for a relatively medium-sized window with a scrollbar
Funny little game! I liked the art and some of the text, particularly the guilt-tripping when you pecked your enemies. It was pretty easy though, the same tactic worked through the entire game. There were quite a lot of typos, like this: "Poisionous bite, you can sacrafice both dice". The lack of audio was probably the biggest drawback. But hey, good job for a jam game!
I participated in the jam, too, so feel free to leave feedback on my game "itCompany". It's a bit weird, though, so I don't blame you if you don't! :D
Thanks for playing! Yeah, the tactics were a bit lacking, I know that, I tried to make it more interesting with the item choices and things like that, but it didn't change the battle tactics as well as I hoped... For the typos, I'm not saying that it isn't my fault, but English isn't my native language and Twine has no automatic typo-detector so yeah, that's the cause of the usual typos, I hope it wasn't to annoying.
I hate myself for not adding audio but I only had like 15 minutes left at the end of the jam before I needed to go, and you can only use music on Twine if you copy a link to the mp3 to it, and well, at that time I didn't know how I would easily make a website and put all the sound files in there, but good, that's no excuse I should've done that earlier.
Thanks for the feedback though! I'll play yours as well!